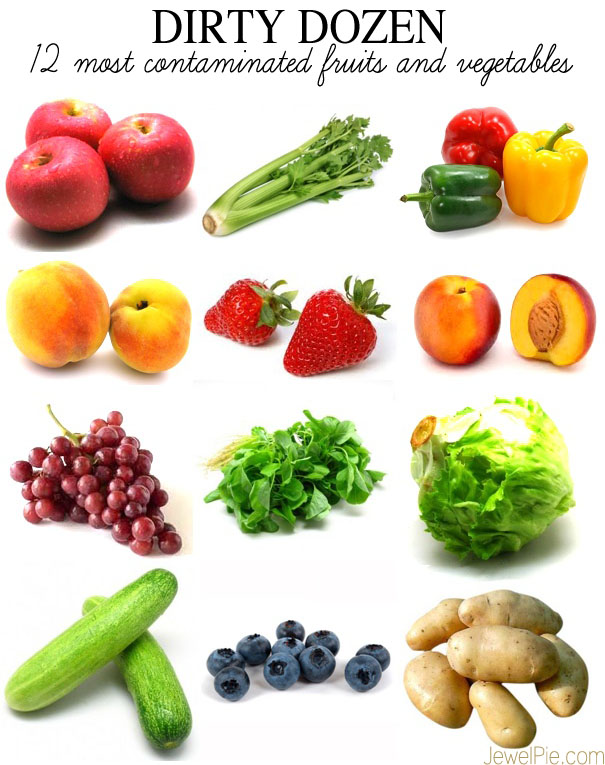 As we I mentioned during the HEALTHY EATING / ANTI-INFLAMMATORY Presentation, the following list of foods that have been shown to have the most pesticides when produced conventionally, and whenever possible should be selected from organic or natural options (Dirty Dozen).
The Clean15 are foods that tend to have the least pesticides when produced conventionally, and can be purchased in the regular section of the store (save money here, to spend it on the Dirty Dozen). Source http://www.rodalenews.com/2014-dirty-dozen
2014 Dirty Dozen
Read More: EWG's Complete 2014 Shopper's Guide to Pesticides and Produce
Nonorganic apples once again topped The EWG's Shopper's Guide to Pesticides in Produce report, making it the fourth year in a row the beloved fruit earned the unfavorable spot.
Kale, collard greens, and hot peppers were frequently contaminated with insecticides that are particularly toxic to human health, prompting their "Dirty Dozen Plus" status.
Dirty Dozen
1. Apples
2. Strawberries
3. Grapes
4. Celery
5. Peaches
6. Spinach
7. Sweet Bell Peppers
8. Nectarines (Imported)
9. Cucumbers
10. Cherry Tomatoes
11. Snap Peas (Imported)
12. Potatoes
+ Hot Peppers
+ Kale/Collard Greens
2014 Clean 15 
It's not all bad news! These produce picks contained the lowest pesticide levels.
1. Avocados
2. Sweet Corn
3. Pineapples
4. Cabbage
5. Sweet Peas (Frozen)
6. Onions
7. Asparagus
8. Mangoes
9. Papayas
10. Kiwi
11. Eggplant
12. Grapefruit
13. Cantaloupe
14. Cauliflower
15. Sweet Potatoes
Read More: EWG's Complete 2014 Shopper's Guide to Pesticides and Produce